Founded in 1850, nobody will deny the fact that American Express is one of the biggest names in the credit card industry. For this reason, many people turn to the company when they are in need of a balance transfer offer.
There are several reasons why American Express balance transfer credit cards are among the best, including the fact that there are many offers to choose from. This allows you to find the deal that best suits your situation.
Before deciding in favor of American Express, there are a few questions to address:
What makes American Express better than other credit card companies?
How long does the 0% interest rate last?
What are the terms and conditions?
It's these types of questions that can help you better understand American Express, including when and if a balance transfer offer is right for you.
How to Get Started
You don't need much knowledge of balance transfers in order to get started. American Express will walk you through the process from start to finish, allowing you to begin in one of two ways:
Contact an American Express agent via phone.
Transfer your balance online.
Regardless of which option you choose, collect this information before starting;
Your current credit card account number.
Your current credit card balance.
The amount you are transferring to the American Express credit card.
If you have questions or need professional guidance, it's best to consult with an American Express agent over the phone. This will help you avoid any challenges that could hold you back.
The Terms and Conditions
Since no two credit card offers are the same, you should review the terms and conditions before you sign on the dotted line. Pay close attention to:
The fees.
The length of the introductory offer.
Penalties, such as if your rate could be canceled for any reason.
Choose the American Express Name
Thanks to its long standing reputation for providing some of the best credit card offers, it's only natural for consumers to turn to this company when considering a balance transfer. When you choose American Express, you can be confident that you will be treated fairly during every step of the process.
American Express Cash Magnet® Card
0% on balance transfers for 15 MONTHS*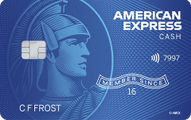 Blue Cash Preferred® Card from American Express
0% on balance transfers for 12 months*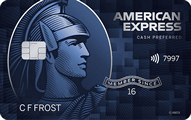 Conclusion
With many balance transfer offers, American Express is one of the best credit card companies for people in this position. Once you learn more about the company, its offers, and the process, you can decide if now is the time to move forward.
Having trouble finding a balance transfer card? We would love to show you more balance transfers, however banks control which cards are allowed on certain pages. We recommend that you view American Express credit cards at CreditWeb for more options.